LASER HAIR REMOVAL FOR MEN IN DERBYSHIRE
Male laser hair removal is incredibly sought-after, painless, and occurs in as little as six sessions. The most typical areas that usually undergo hair removal include the chest, leg, arm, and beards. My most recent clients have witnessed the benefits of this incredible and permanent reduction / removal of unwanted hair from their bodies. And if you're looking for laser hair removal in Derbyshire Nottingham male men's back chest removal, this option should be your go-to. We're located just off A38 in Ripley Derby Derbyshire and offer these services for men.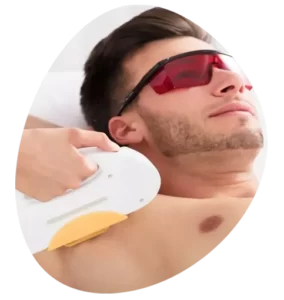 Chest Hair Removal for Men in Derbyshire
Chest Hair Removal near Derbyshire – The first laser chest hair removal usually thins it out. Subsequent hair removal will then slowly remove the remaining hairs, ensuring they don't grow back anymore. That eliminates the need to shave your chest hair, which can constantly be nagging. Laser chest hair removal ensures that it eliminates it, and it won't have to bother you anymore.
Beard Hair Removal for Men in Derbyshire
Beard Removal – Beard hair can grow quickly in some men, which can be bothersome. If you've struggled with always trimming your beard, it's about time you resort to a more practical solution – laser beard removal. We offer this service at a reasonable price, and it's a relatively painless process. Moreover, the results are long-lasting and worth the value for your money.
Arm Hair Removal for Men in Derbyshire
Arm Hair Removal – Some men also struggle with quickly growing arm hair, and constantly shaving them can be stressful and, more often, painful. Resulting razor burns can cause nagging irritations on the arm and are often uncomfortable. However, laser arm hair removal.
Leg Hair Removal for Men in Derbyshire
Leg Hair Removal – Typically, a vast majority of men struggle to keep hair short on their legs. This hair usually runs from the thighs to the leg's lower end and often grows quickly. Shaving them is only short-term and often proliferates as soon as it's cut. However, our leg hair removal sessions are incredibly efficient as they work out the problem from its root.
Why Choose our Laser Hair Removal for Men in Derbyshire
Also known as super hair removal (SHR), our hair removal method is the most effective as opposed to intense pulsed light (IPL). It offers long-term hair reduction, and in as little as six treatments should remove up to 90 percent of your hair. This technology is effective and gets rid of your hair permanently. Therefore, you won't have to shave your hair as soon as it grows constantly. Besides, we offer it affordably, and results are always guaranteed with almost all hair
This technology leaves your skin intact after working in the areas under it. It leaves no visible symptoms, and your skin usually appears untouched. You won't experience any pain or superficial burns that you alternatively would with short-term waxing and other hair removal treatments. This treatment is paired with a proficient air-cooling tool on the surface; your skin would only feel tingly and warm at most. We assure you that you won't need any anesthesia or numbing.
If you require using your service for our medical-grade laser hair removal using SHR (RF, E-light, and IPL). Don't hesitate to get in touch with us for a free consultation.
Laser hair removal treatment is suitable for all skin types. Chosen area MUST be shaved between 2-24 hours before treatment.
(1) Session PAYG
(6) Sessions (20% discount must be paid in full on patch test)
(8) Sessions (25% discount must be paid in full on patch test)
Consultation Free