LASER TATTOO REMOVAL DERBYSHIRE
Doesn't your tattoos captivate you anymore? And are you planning to remove them permanently? We've got the best state-of-the-art tattoo removal tools to make that happen. Please remember a tattoo is never forever anymore with laser technology.
We are based in Ripley, Derbyshire, we treat black, red, blue, and green ink tattoos using the Q-switch system. Our medical grade laser system is incredibly powerful in removing your tattoos permanently.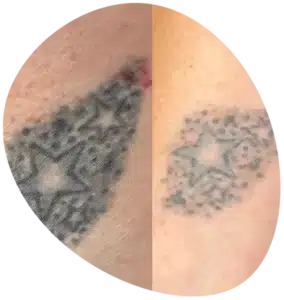 There are three main methods for tattoo removal: laser, dermabrasion, and excision. Each method has its pros and cons, and the best option for you will depend on factors like the size and location of your tattoo, your skin type, and the colour of the ink.
Laser Tattoo Removal
Laser tattoo removal is the most common method for removing tattoos. The procedure involves using a high-powered laser to break up the ink particles in your skin. The broken-down ink is then absorbed by your body's lymphatic system and eliminated naturally.
One of the benefits of laser tattoo removal is that it's non-invasive, meaning there's no cutting or scarring. However, it can be painful, and you may need multiple sessions to achieve the desired results. The number of sessions required will depend on factors like the size and complexity of your tattoo, the age of the tattoo, and the colours used.
Dermabrasion and Excision Tattoo Removal
Dermabrasion and excision are less common methods for tattoo removal. Dermabrasion involves using a special tool to remove the top layer of skin, while excision involves cutting out the tattooed skin and stitching the remaining skin together.
The benefit of dermabrasion and excision is that they can remove the tattoo in one session. However, they are more invasive and can be more painful than laser tattoo removal. Additionally, they can leave scarring, and the recovery time is longer.
(1) Session PAYG
(6) Sessions (20% discount must be paid in full on patch test)
(8) Sessions (25% discount must be paid in full on patch test)
Consultation Free
SPMU Laser Removal
Very Small (up to 2cm) £40 (1) £192 (6) £240 (8)
Small (up to 5cm) £60 (1) £288 (6) £360 (8)
Eyebrow Single (Microbladed) £20 (1) £96 (6) £120 (8)
Eyebrow Both (Microbladed) £30 (1) £144 (6) £180 (8)
SPMU other areas from £40 (1) £192 (6) £240 (8)
R20 Instant Tattoo Removal (under 5cm) £399 (1)

(upto 70% reduction in 1 session consist of 4 passes)

For bigger areas a fixed price will be determined following a consultion POA