LASER HAIR REMOVAL FOR WOMEN IN DERBYSHIRE
In recent years, laser hair removal has emerged as a popular and effective solution for women in Derbyshire seeking to permanently reduce or eliminate unwanted body hair. Gone are the days of painful waxing, tedious shaving, and inconvenient depilatory creams. Laser hair removal offers a long-lasting solution that provides women with smooth, hair-free skin, boosting their confidence and freeing them from the shackles of traditional hair removal methods. This article explores the ins and outs of laser hair removal, its benefits, safety, availability in Derbyshire, and what women can expect from the procedure.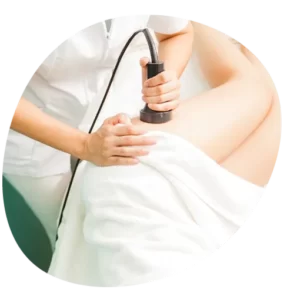 ---
---
USEFUL

INFORMATION
Leg Laser Hair Removal for Women in Derbyshire
Leg hair can grow pretty quickly, and shaving and other hair removal methods can often be ineffective. Although leg hair grows relatively slowly, the sustained need to eradicate it can make it daunting. However, laser hair removal is your ultimate solution to eliminate nagging hair regrowth and make them less bold and pronounced. Maintenance laser treatments offer long-term hair reduction, giving you much-needed peace of mind.
Face Laser Hair Removal for Women in Derbyshire
Facial hair is more synonymous with men, but women, too, can have hair sprouting on their faces. That can be uncomfortable and possibly wreck your confidence. Shaving and waxing can be incredibly painful and cause razor burns and skin irritation. However, laser hair removal does the job safely and efficiently. Moreover, you shouldn't expect any regrowth after the treatment – at least not too soon.
Bikini / Intimate area Laser Hair Removal for Women in Derbyshire
Hair on and around the bikini line doesn't always sit well with women. It makes the summers uncomfortable and unbearable, and shaving or waxing doesn't always help. Regardless, laser hair removal is your best chance at ensuring that this hair doesn't grow back stronger after removing them. Besides, this treatment is safe and considerate of this area's sensitivity, hence won't be any uncomfortable.
Arm Laser Hair Removal for Women in Derbyshire
Not all women grow hair on the arm. However, about one in three women experience dealing with this issue, which often seems not to give them a breather. Shaving and waxing is usually their go-to option to suppress hair growth, but it's usually a mockery for their hair's propensity to grow back sooner. Most women who turn to laser hair removal go head over heels for the results, giving them a much-needed reprieve from arm hair problems.
How Does Laser Hair Removal for Women Work?
Laser hair removal is the latest technology that targets the area under the skin's surface. Also, an air-cooling tool complements this treatment, and your skin will only feel tingly and mildly warm on the extreme. This treatment usually leaves your skin intact and untouched, with nearly no visible symptoms. Unlike short-term waxing and other laser hair removal treatments, you won't experience any superficial pain or burns. And usually, this treatment doesn't warrant anesthesia or numbing.
Please note that we use a Medical grade laser hair removal machine using Super Hair Removal SHR ( E-light, IPL, and RF is available on request).
Also, please shave the chosen area between 2 and 24 hours before treatment. Laser hair removal suits all skin types, which should settle all your worries.
Further Information
Women's laser hair removal in Ripley, Derbyshire is incredibly sought-after. And if you're looking to eradicate hairy areas, laser hair removal should be your go-to option. The legs, face, arms, and bikinis commonly need laser hair removal, and it's a painless option in as little as six sessions. We affordably offer this service to women just off the A38 in Ripley, Derbyshire and we serve Derby and Nottingham.
Laser hair removal is the most successful long-term method compared to Intense Pulse Light (IPL). Also known as Super Hair Removal (SHR), this method guarantees up to 90% hair removal in only six treatments! We deal with all problem areas that need hair removal in women, including:
Payment options
(1) Session PAYG


(6) Sessions (20% discount must be paid in full on patch test)


(8) Sessions (25% discount must be paid in full on patch test)


Consultation Free
Laser Hair Removal
£
20.00
(Starting from)
See Price List Page For All Prices
FAQ's
One of the benefits of Laser Hair Removal is that the treatment is virtually painless, especially compared to waxing. Each pulse lasts less than a second, producing a slight tingling feeling. In particularly sensitive areas, such as the upper lip, it may feel like a rubber band snap on the skin. We use an advanced cooling machine in conjunction with our laser device to reduce the heat sensation on the skin and minimise any discomfort.
Yes – our Laser Hair Removal treatment is safe for individuals on birth control including oral contraceptive pills and IUD.
Lazer Lounge advise our pregnant and breastfeeding clients to obtain medical clearance prior to proceeding with laser hair removal treatment. We also will advise that you might not get the results your require as hormones might grow hair back.
Our customers must be at least 18 years of age to have any laser hair removal , laser or skin treatments.
Lazer Lounge may request a valid form of ID to identify the age of the prospective client.
Lazer Lounge uses one of the most advance medical graded laser, for Laser hair removal, we can treat all skin types on the consultation we will do a Fitzpatrick Classification Scale to determine your skin type.
Shave treatment area at least 2-24 hours prior to your treatment.
Do not wax, use depilatory creams or pluck hairs four weeks prior to laser hair removal treatment.
Exfoliate the treatment area at least 3 days before your laser hair removal treatment.
Ensure no residue fake tan is present on the area being lasered.
Avoid excessive sun exposure on the area being treated two weeks prior (including solariums or tanning drugs)
Avoid chemical peels or laser resurfacing treatments at least 4 weeks before your treatment
Avoid using topical creams/moisturisers, colognes or perfumes to the area being treated before the appointment
In order for the treatment to be as successful as it possibly can be there are a few requirements to take on board:
Please ensure the area to be treated is free from ALL topical solutions
Shaving is required 2-24 hours prior any sooner can result in heightened sensitivity during the process
Avoid exposure to the sun for a minimum of three days before treatment whilst tanned skin is absolutely fine to work with, the tan cannot be active in order to achieve maximum results
Cease use of tanning creams two weeks before treatment
Avoid bleaching, plucking, waxing, epilation and any other forms of hair removal for 4 weeks prior
Do not use essential oils 48 hours prior
Depilatory creams should be avoided 1 week before treatment commences
Cold sore medication can be taken five days before and five days after treatment
Should you be on antibiotics it is recommended to leave a two week gap between taking them and starting treatment
Epilepsy sufferers are advised to consult with their doctor about having Laser Hair Removal. An individual will need to obtain medical clearance form from their doctor prior to starting treatment.
Most people vary in the number of treatments required, this does depend on where their hair cycles are when we first start but usually most people need 6 treatments. Some clients have had 70% loss after just 4 sessions.
For best results, on average we recommend 6 to 10 treatments. This will allow hairs to be disabled effectively during the active growth phase. After completing a treatment course, if required, we recommend maintenance touch ups to be performed once or twice a year. People suffering from hormone imbalance may required more treatments.
Lazer lounge recommends 4-6 weeks. This allows the growth cycle. Each time more hair will be lost.
Yes, we use 690nm to remove Blonde and Fine Hair.
Cold compresses (not ice) and recommended skin care products such as Aloe Vera may be useful to reduce swelling and erythema (redness).
You may take over-the-counter pain or anti-inflammatory medication but with SHR this is not usually required.
Your skin will be fragile for 2 to 3 days. Use gentle cleansers, but do not rub the skin vigorously and avoid hot water during this time.
Avoid sun exposure and tanning creams during the entire course of treatments. Use SPF 30 or greater on the treatment area at all times.
The treatment area may be left open and uncovered. Do not scrub the area.
Avoid soaking for 24 to 48 hours. No hot tubs, whirlpools or baths, but showers are allowed if tepid water is used.
Avoid excessive sweating for 24 to 48 hours. No saunas or vigorous working out.
Keep areas well moisturised
Avoid irritants such as Retin-A, Retinol, Renova, glycolics, bleaching creams and exfoliants for one week.
Keep well hydrated
Avoid photosensitivity inducing foods (Celery, Leek etc) or herbal remedies such as St John's Wort
Plucking residual hair is acceptable after the hair removal treatment but not before!
Makeup can be applied after 2 hours
Very rarely with SHR, clients experience blistering that causes crusting. This usually does not occur until the following day. If it does occur, the patient can apply warm compresses and a topical antiseptic ointment. This occurrence should be relayed to your Aesthetic Practitioner as future treatments will require that the settings be adjusted.
SHR combines laser technology and pulse light to achieve almost painless results for the removal of most types of hair and is safe on all skin types. SHR is different from the traditional IPL and laser as it targets the hair germ cells and blood supply that feeds it. It does not rely sole(pigment) of the hair to effectively destroy the targeted hair.
New research has shown that a slower, longer heating process is more effective for permanent hair reduction than high and short levels of energy.
Actively growing hair that's been treated with SHR should not grow back. Once a hair follicle is damaged, it cannot grow hair. However, hair follicles that were not in the active growth phas, will need to be treated. It's also not unusual for some patients to have a touch-up two years after initial treatment due to hormonal changes.
Depending on skin type and sensitiveness of the skin, some light skin redness (erythema) or slight swelling (edema) can be experienced. These are normal reactions which show that the treatment was effective and they should generally disappear after a short while.
The taking of certain medicines which cause photo-allergic and photo-toxic reactions must be clarified beforehand.
Tattoos must be covered carefully otherwise there is a risk that they become damaged.